The Commissioners Bios
Belmont County has a three-member Board of County Commissioners that serve as the general administrative body for 86 of 88 Ohio counties; the exception being Cuyahoga and Summit Counties with its charter form of government.The Board of County Commissioners constitutes the chief governing board of Belmont County. Together they manage a large and diverse organization whose mission is to provide quality government services in an efficient, cost effective manner.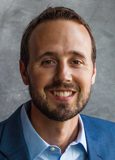 J. P. Dutton
President of the Board of Commissioners
jdutton@belmontcountyohio.org

J. P. Dutton was elected to his seat which began on January 2, 2017.  Prior to serving as a Commissioner, Mr. Dutton spent 9 years with Leonardo Technologies, Inc. (LTI), during which he focused on providing policy analysis to energy and environmental projects including global trends as well as advanced technologies, particularly in coal and natural gas.  He has worked with a variety of clients including the Department of Energy, the National Energy Technology Laboratory, the Department of State, the Department of Defense, and the Corps of Engineers.  Prior to joining LTI, Mr. Dutton spent 8 years serving in a number of roles on Capitol Hill as Congressional staff. During this time period, he worked with federal, state, and local governments on behalf of Ohio's 18th Congressional District which included 20 counties.Mr. Dutton was raised on a cattle farm in Flushing, Ohio and graduated from Union Local High School.  He holds a B.S. in Finance from Miami University, Richard T. Farmer School of Business as well as a MBA from Wheeling Jesuit University.   He and his wife, Stacey, who is an area hospital social worker, are the parents of three young children.
Josh Meyer
Vice President of the Board of Commissioners
jmeyer@belmontcountyohio.org
Mark Thomas
mthomas@belmontcountyohio.org
Mark Thomas was appointed to the seat on December 5, 2013, after serving as Commissioner from 2001-2009. Prior to serving as Commissioner, Thomas was a member of St. Clairsville City Council and was its Law Director. Thomas has previously served as a Board and Executive Committee member of the County Commissioners Association of Ohio and is currently on two of its government committees. He has a business degree from Kent State University and a Juris Doctorate degree from Ohio Northern University College of Law. Thomas co-owns the Ye Olde Alpha restaurant in Wheeling, WV.